Review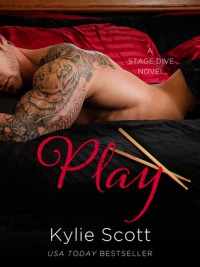 4 to 4.5 STARS 'Play'
by
Kylie Scott
is F*CKING AWESOME!!
The second book of the
Stage Dive
series does not disappoint. On the contrary, I think it's even better than the first book and it certainly is a whole lot of fun!
In this book we follow Anne Rollins and her relationship with the playful and wickedly sexy 'Mal' Ericson – drummer of "Stage Dive".
While the circumstances that bring them together are nothing new in this genre (a fake relationship), in this case, the characters' likability and the connection and chemistry between them is really captivating.
Life's a song, Anne. Let's play.
In comparison to
Lick
(1st book), in this story there is less emphasis on the drama and it was just awesome to follow the evolution of the relationship between Mal and Anne - it has a friends-to-lovers feel to it and it is romantic, heart-warming, HILARIOUS and HOT.
I loved it, all the characters are great and well, after reading reading
Play
, I think you'll probably say...
Play
is guaranteed entertainment, a fast-paced and really well-written romance that will leave you wanting more. I really think that the
Stage Dive
series keeps getting better and I highly recommend it for those who are looking for something fun and sexy to read.